This Women's Equality Day, let's talk health equity
insights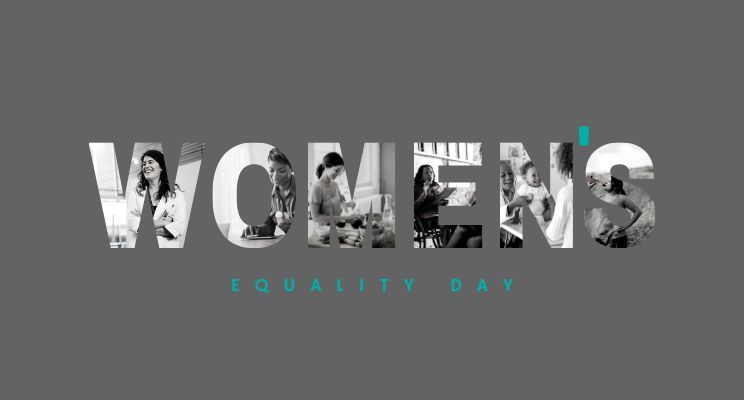 Today is Women's Equality Day; although first established to commemorate the anniversary of the 19th amendment, which grants women the right to vote, this day now serves as a time to reflect on the progress of equality in this country and how much work we have left to do. However, equality goes beyond making our voices heard at the ballot boxes. Equality, or lack thereof, touches every aspect of our lives, including healthcare and health equity.
At Spectrum Science, we put science and health at the center of everything we do—with our mission to connect humankind to its best healthlife. Standing most obviously in our way toward that mission is the recent attack on women's rights and women's health in the removal of the constitutional right to reproductive freedom. But even though women make up 50% of our population, we are often underrepresented in healthcare and health decisions, forced to live and work in systems that were not designed for us. In fact, it wasn't until 1986 that women were even allowed to participate in clinical research and trials—13 years after the first official Women's Equality Day. As we dug deeper into the ways women continue to be left out of the collective consciousness, we found some obvious health implications and some more shocking ones.
Not surprising:
1 in 5 women feel as though their healthcare provider dismissed or ignored their symptoms
45% of women feel they have been labeled as chronic complainers
Shocking:
Metabolic rates of men often determine building temperatures
PPE is measured to fit the standard U.S. male face shape
Products marketed specifically for women cost more than the same products and services for men (known as the Pink tax)
It doesn't stop there. Black women and women of color are even more disproportionally impacted by health disparities. In one example from two Baltimore neighborhoods—one mostly impoverished and Black and the other mostly wealthy and white—the difference in average life expectancy is nearly 20 years. The neighborhoods are less than five miles apart.
How is this still our reality in 2022?
While much progress has been made in terms of health equity, the recent Supreme Court decision in the case of Dobbs v. Jackson Women's Health Organization shows us that a small but powerful few are still making decisions for us all, that do not reflect the wants and needs of the majority. Most Americans (Nearly 57%, six-in-ten adults), disapprove of the decision, with 43% of those reporting they strongly disagree. It will only be through true representation in the halls of power that equality becomes a reality, for women, for communities of color, for LGBTQ+ communities, for those living with physical disabilities... the list goes on and on.
What can we do to drive change?
As a healthcare industry: We need to work actively to ensure equal access to healthcare for everyone, regardless of gender identity, skin color, socioeconomic status or geography. We need to be supported to make decisions with our doctors about our own bodies and we need to be included in scientific research.
Communications professionals
Speak up: As communicators and marketers, we can utilize our platforms (social, industry networks, etc.) to speak out on high-profile issues or decisions impacting health equity and become allies for those fighting for their rights, no matter their gender identity. We can look for ways to be more inclusive, and to speak up when we see a portion of the population being ignored. We can be design thinkers, identifying unmet needs and working to design new products and services that fill the void. We can champion women and minority communities as they work to win positions of power, within our organizations and outside them
Communicate the facts: Our job is to share factual information and provide resources for those who don't have access to them. We help create healthcare brands that people trust and come to for information. We can work together to make sure that truth wins out over fiction and drown out narratives that serve a biased few.
Focus on diversity, equity and inclusion (DE&I): Often times, DE&I is only seen through the lens of race and gender, but it should encompass all aspects of diversity. Developing goals around DE&I in the areas of compensation, adequate leave, proper healthcare plans, etc., will create a more equitable health space, and we can push governmental systems in place to do the same.
As an agency
Parental Leave, not Maternity Leave: Society's patriarchal history, leads us to label women as the primary caregivers or the ones that are primarily responsible for the care of children and family, but today it's important to normalize all family structures. At Spectrum, we embrace parental leave. No matter how you are involved in bringing a child into your family and the world—whether that be adoption, biological birth, surrogacy etc.—you are entitled to 13 weeks of fully paid parental leave, with the option of taking up to six months off. By the simple act of changing our phrasing from maternity or paternity to parental leave and broadening the policy to be more inclusive, we are encouraging any parent to take that time with their new child and taking a step in the right direction to change the gender stereotypes and expectations around child-rearing, empowering women to carve out the role they desire.
Mental Health Resources: It is important to address mental health in addition to the physical. Spectrum provides mental health resources through apps like Ginger and Headspace that connect employees and their loved ones with professionals to talk about any challenges or stressors they may be facing. This includes helping staff to process current events, like the political climate and court rulings that may affect their personal healthcare options and that can take a toll mentally and emotionally.
CSR Health Equity: At Spectrum, we use our resources to support organizations with similar missions. We are always looking to partner with organizations that support health equity so that we may learn from them as well.
Our mission at Spectrum is to connect humankind to its best healthlife. But without health equity, this is not possible for the majority of people. So, this Women's Equality Day, think about health. Think about what you can do to help establish a more equal healthcare system. There's work to be done, so let's get to it.
---
Michelle Strier is Chief Strategy Officer, and Andrea Sessler is Chief Human Resources Officer Spectrum Science—an integrated marketing, communications and media agency hyper-focused on science.